Are you struggling to get your Oculus Quest 2 to charge? If so, then this is the guide for you. And don't worry, it's not as complicated as some people may make it out to be.
If you've recently purchased the Oculus Quest 2 and are trying to charge your headset, you may have found that it charges rather slowly. The good news is it's not too hard to fix Oculus slow charging issue. Today, we will show you the 7 best ways to fix Oculus Quest 2 slow charging issue.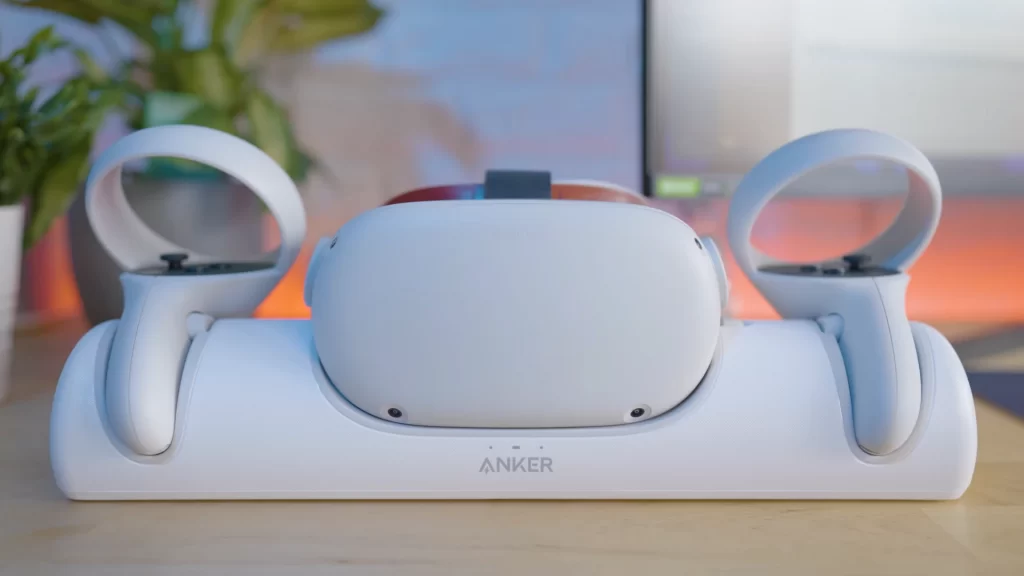 Also See: How To Cast Oculus Quest 2 To Samsung TV
7 Best Ways To Charge The Oculus Quest 2 Faster
If you're having problems with charging your VR headset, then here are some quick tips for you to boost up your Oculus Quest 2 charging speed:
#1. Run The Basic Checks
Always use original charging accessories to charge your Oculus Quest 2.
Make sure you plugged in the charger properly to your VR headset.
While charging, make sure the orange or green LED light on the side of your headset is turned on.
When not in use, it is recommended that you turn off your Oculus Quest 2 to save battery life.
#2. Turn Off Headset When Charging
As some users reported the Oculus Quest 2 charge slowly if it isn't turned off before charging. To turn off your headset press and hold down the power button until you hear the power down sound. This will prevent your headset from turning itself on whenever it detects any activity around it.
Also Read: Best Oculus Quest 2 Games And Apps
#3. Turn Off Auto Wake-up Feature
Using the Oculus Auto Wake-up function is one of the most common mistakes people make. It's a nice feature, but it's bad for your headset's battery life. When you take off the VR headset and place it somewhere without turning it off, it enters sleep mode. And every time the Quest is moved or detects something within the headset, it turns on, reducing battery life and slowing charging.
#4. Charging While Playing
If you are charging and playing on Quest 2 simultaneously, stop it right away. Oculus doesn't recommend you to play on Quest 2 while charging because it slows down the charging speed. Also, it can discharge the battery quickly if the headset requires more power than the charger can provide. So, you shouldn't be using the Quest 2 until it's fully charged.
Must Read: How To Cast Oculus Quest 2 To Roku TV
#5. Check Charging Ports
Check whether the power cable is properly connected to the headset if your Oculus Quest 2 is charging slowly or stopped charging. If there is a loose connection wiggle the power cable gently to reconnect. Your headset may need to be repaired or replaced if you notice any melted, burned, or discolored plastic around the power cable or port.
#6. Factory Reset Oculus Quest 2
If none of the above solutions work and your Oculus Quest 2 still charging slowly, you could have a critical software problem and need to do a factory reset. Before you do that remember all the games available on your Quest 2 will be deleted. Here is how to do it:
Tap on Devices.
Select the Headset you want to reset and then tap Advanced Settings.
Tap Factory Reset and then tap Reset.
Now, wait for your Oculus Quest 2 to go back to factory settings.
Must See: How To Cast Oculus Quest 2 To Apple TV
#7. Contact Support
If none of the following methods work for you, you should contact Oculus support for assistance. A damaged battery can also be the reason for the slow charging of your Quest 2. You can request a repair or get it replaced if your Oculus Quest 2 is still under warranty.
Wrapping Up
That's what we have for now, and hopefully, it gives you some insight into how to fix the Oculus Quest 2 slow charging issue. If you have other ideas, share them with me on my Twitter handle @Amanpanchal0.