The question of how to cast Meta Quest 2 or Oculus Quest 2 to Apple TV has recently become popular.
The Oculus Quest 2 is a popular virtual reality (VR) device that can be connected, streamed, and cast to the Apple TV for a fantastic experience.
The biggest issue is that the process might be complex and difficult to understand at times.
If you're one of the many people who find themselves in this situation, we have the perfect guide for you. In this guide, we'll show you how to cast Oculus Quest 2 to Apple TV.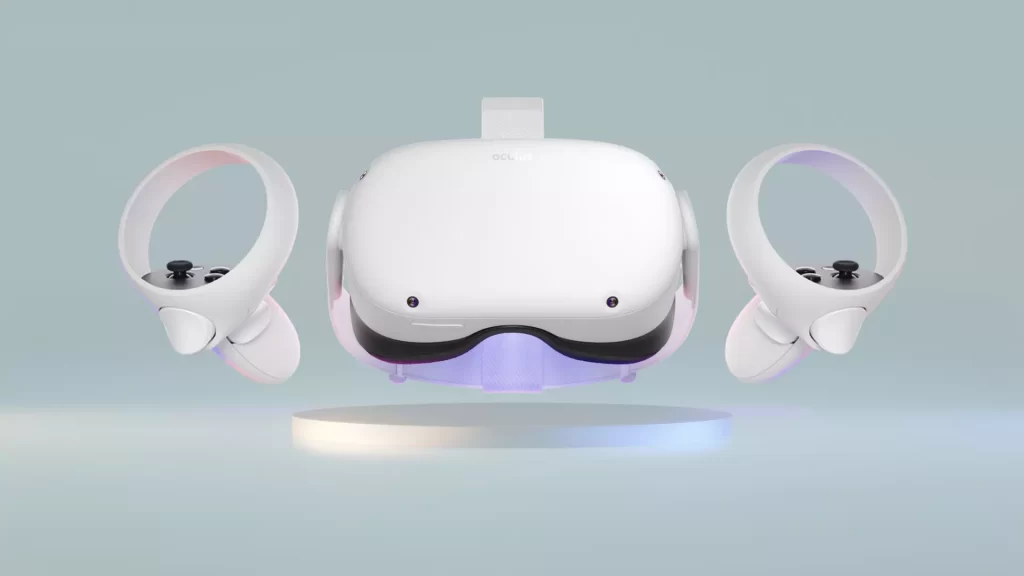 Requirements To Connect And Cast Oculus Quest 2 To Apple TV
Before we move ahead you should know that there is no way to directly connect and cast your Oculus Quest to Apple TV. But don't worry there is a workaround available, you need to complete the requirements mentioned below to cast Oculus Quest 2 on an Apple TV:
Oculus Quest 2 VR headset running the latest version.
Apple TV with Airplay 2 enabled.
Strong Internet or Wi-Fi network.
An iPhone or iPad.
Must See: Best Oculus Quest 2 Games And Apps
Enable Airplay 2 on Apple TV
Go to Apple TV system Settings >> Airplay >> Turn on Airplay >> Select Everyone on Same Wi-Fi Network.
Sign In with the same Apple ID on your Apple TV and iPhone.
Open settings on Apple TV.
Go to Airplay and select Room.
Select the room where the Apple TV is placed by following on-screen instructions.
How To Cast Oculus Quest 2 To Apple TV
Make sure your iPhone(or iPad), Oculus Quest 2.0, and Apple TV are all connected to the same WiFi network before you start casting Meta Quest 2.0 to Apple TV.
Download Oculus App on iPhone or iPad.
Launch Oculus App and Tap on the Cast icon.
Turn on your Oculus Quest 2 headset and put it on.
Select Sharing >> Start Headset Casting.
Select the Device >> Start from the in-VR prompt.
Go to the Control Center on iPhone or iPad.
Tap on Screen Mirroring.
Select Apple TV from the list to pair Oculus Quest 2.
Now, you will be able to cast anything on your Oculus Quest 2 or Meta Quest 2 using Apple TV. You can watch movies, tv shows and attend virtual music concerts, celebrity meet-ups, etc.
Must Read: How To Cast Oculus Quest 2 To Firestick
Challenges You May Face While Casting Meta Quest
This is not an officially recommended or tested method, some flaws are unavoidable.
For this casting to perform smoothly, you'll need a fast network connection.
Currently, not all applications and games support casting. So there are a lot of games and apps that don't work.
Despite the fact that video streaming is flawless, users have reported that audio mismatch occurs from time to time.
Why Cast Oculus Quest Or Meta Quest To Apple TV?
Casting the Oculus headset simply allows users to share their perspectives with anyone who happens to be present in the same room as you at the time.
It merely broadens the audience that could see your actions, making the entire VR gaming experience much more entertaining and engaging.
Things You Can Do With Oculus Quest And Apple TV
VR Meet-up & Concerts
Experience virtual concerts and meet-ups with your loved ones using a VR headset. Immerse yourself in the excitement of live music and get up close and personal with your favorite celebrities. Share the experience with family and friends and make memories that will last a lifetime.
VR Animation
VR technology has been shown to be beneficial in a new field known as mental therapy. So, while you're at it, try to overcome your fears of darkness, heights, and other similar phobias.
Watch Movies
Watch movies and TV shows with friends anywhere in the world on the Oculus Quest 2 VR headset. Enjoy a shared viewing experience like never before.
VR Gaming
When you connect your Apple TV to your Oculus Quest 2.0, you have additional entertainment possibilities of all sorts such as music and gaming. Everything is available to stream.
Also See: How To Cast Android To Apple TV
Oculus Quest 2.0 VR Headset Alternatives
HTC Vive Cosmos – The HTC Vive Cosmos is a high-end virtual reality headset with superior screen quality and built-in headphones for an immersive experience.
Sony PlayStation VR – The Sony PlayStation VR was particularly built for the PlayStation 4 and 5, making it an excellent alternative for gamers.
Valvle Index – The Valve Index is a high-end VR headset with high refresh rate screens that provide rapid, fluid graphics and powerful haptic technology that provides a new degree of immersion.
Oculus Rift S – The Oculus Rift S is a PC-powered VR headset with enhanced tracking and no additional sensors, making it an excellent choice for simplicity and ease of use.
Pimax 5K Plus – The Pimax 5K Plus VR headset is developed primarily for use with powerful gaming PCs. It provides stunning high-resolution images that genuinely bring virtual reality to life.
Wrapping Up
So, this is how to cast Oculus to Apple TV and enjoy the VR world. Oculus Quest 2 is a great step ahead in the VR industry and it will change the way people consume media content these days. Follow the given instructions carefully and you will not face any issues while casting your Oculus Quest 2 or Meta Quest 2 to your Apple TV.
Now, everyone around you can watch and enjoy with you, while you are playing games or watching movies. For more helpful articles like this check our other How-to-Guides and keep streaming.
FAQs
What is Oculus Quest?
The Oculus Quest is an all-in-one virtual reality headset. The Oculus Quest setup includes a VR headset and two hand-held controllers. It can be used to play games, study, and participate in a variety of life-like virtual simulations.
Can multiple people share Oculus Quest 2?
Multiple accounts and library sharing are now available as an experimental feature in Oculus Quest 2, allowing up to four profiles on a single headset, each with its own social accounts and applications.
Is it possible to cast and stream Oculus Quest 2 on Apple TV?
You cannot directly cast and stream oculus quest 2 on Apple TV. But, if you have an iPhone and your Apple TV supports Airplay 2 there is a workaround that you can follow.