How to cast Oculus Quest 2 to Firestick or Fire TV Stick has recently been a hot topic. The Oculus Quest 2 is a popular VR gadget that you can use to stream and cast on Firestick for a terrific virtual reality experience.
Most of the users find it difficult to cast Oculus Quest 2 to their Firestick, but it is quite simple if you have the right instructions to follow.
So, today we have a quick guide for you to follow and set up your Oculus Quest 2 with your Firestick. We'll talk about how you can cast Oculus Quest 2 to Firestick in five easy steps, it's time to cast.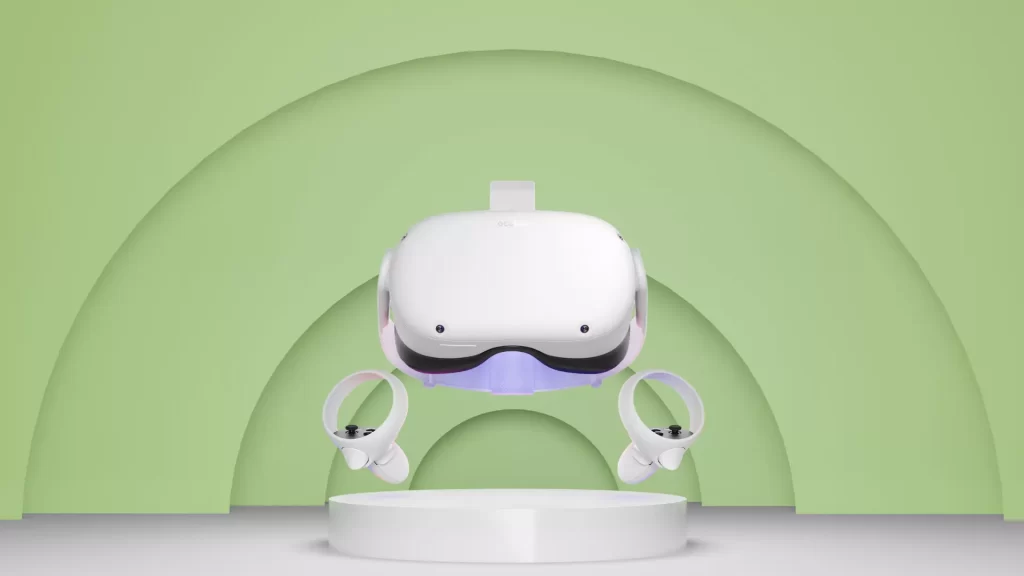 How To Cast Oculus Quest 2 To Firestick
Before we start make sure that your Oculus Quest 2 is running on the latest version. Simply follow the simple instructions given below to play and cast your Oculus Quest 2 to Firestick or Fire TV Stick.
#1. Install AirScreen on your Firestick.
#2. Launch AirScreen and click Start.
#3. Turn on your Oculus Quest 2 headset and put it on.
#4. Select Sharing >> Start Headset Casting.
#5. Select the Device >> Start from the in-VR prompt.
When you're finished casting, make sure to exit the AirScreen app by pressing the back button on the Firestick controller.
Now, you can cast anything on your Oculus Quest 2 using Amazon Firestick. You can watch movies, tv shows and attend celebrity meet-ups, virtual music concerts, etc.
Also See: How To Cast Oculus Quest 2 To Apple TV
Things You Can Do With Oculus Quest And Amazon Firestick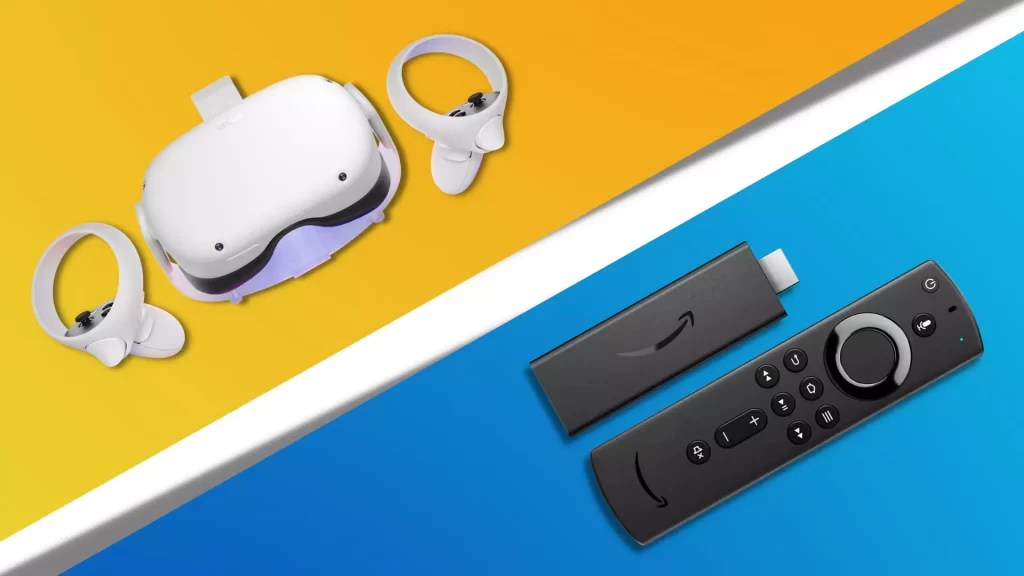 VR Meet-up & Concerts
Experience the excitement of live concerts and connect with others from the comfort of your own home with your Oculus Quest. With virtual music concerts and community meet-ups, you can share the experience with your loved ones and create new memories together.
VR Animation
VR technology has been shown to be beneficial in a new field known as mental therapy. So, while you're at it, try to overcome your fears of darkness, heights, and other similar phobias.
VR Gaming
When you connect your Firestick to your Oculus Quest 2.0, you have additional entertainment possibilities for all sorts such as music and gaming. Everything is available to stream.
Watch Movies
On the Oculus Quest 2, you can watch movies and tv shows with friends and family from all around the world.
Must Read: Best Oculus Quest 2 Games And Apps
Oculus Quest Not Casting – What To Do?
1. Use Same Wi-Fi Network
To achieve a smooth casting experience from your Oculus Quest, make sure both the Oculus Quest 2 and the device you're casting to (such as a TV or Chromecast) are on the same Wi-Fi network.
2. Restart Oculus Quest & Casting Device
If you're having trouble with casting from your Oculus Quest, don't worry! A simple restart of both the Oculus Quest 2 and the casting device, can often do the trick. This gives both devices a fresh start and eliminates any internal interference.
3. Power Cycle Your Modem & Router
Don't give up if you're still having trouble casting from your Oculus Quest! Power cycling your modem and router may be just what you need to create a reliable connection between both devices.
This simple step refreshes your internet connection, so that the Quest and your casting device can communicate without any interruptions.
4. Reset Oculus Quest
If nothing seem to work, resetting your Oculus Quest may be your final solution. Keep in mind, however, that this will wipw all of your data and reset the device to its original factory settings.
Note:- Before proceeding with this step, make sure to backup any vital data to avoid losing it forever.
Oculus Quest 2.0 VR Headset Alternatives
HTC Vive Cosmos – The HTC Vive Cosmos is a high-end virtual reality headset with superior screen quality and built-in headphones for an immersive experience.
Sony PlayStation VR – The Sony PlayStation VR was particularly built for the PlayStation 4 and 5, making it an excellent alternative for gamers.
Valvle Index – The Valve Index is a high-end VR headset with high refresh rate screens that provide rapid, fluid graphics and powerful haptic technology that provides a new degree of immersion.
Oculus Rift S – The Oculus Rift S is a PC-powered VR headset with enhanced tracking and no additional sensors, making it an excellent choice for simplicity and ease of use.
Pimax 5K Plus – The Pimax 5K Plus VR headset is developed primarily for use with powerful gaming PCs. It provides stunning high-resolution images that genuinely bring virtual reality to life.
Wrapping Up
Oculus Quest 2 is a significant advancement in the virtual reality industry, and it will alter how viewers consume media content in the future. If you properly read the steps, you should have no problems casting your Oculus Quest 2 to your Firestick.
While you are playing games or viewing movies, everyone around you can now watch and enjoy with you. Check out our other How-To Guides for more useful articles like this, and keep streaming.
FAQs
Does Oculus Quest 2 work with Firestick?
Yes, using a third-party FireTV application like AirScreen, you can cast Oculus Quest to an Amazon Firestick. Airscreen allows you to directly cast and stream from the headset your Firestick.
What devices can Oculus Quest 2 cast to?
Firestick, Google Home Hub, NVIDIA Shield TV, Chromecast, and Chromecast Ultra are the only connected devices that Oculus currently supports for Quest casting.
What is Oculus Quest?
Oculus Quest is a virtual reality headset launched by Facebook. A VR headgear and two hand-held controllers are included with the Oculus Quest setup. you can use it to play games, learn, and take part in a wide range of lifelike simulations.
Do you need Chromecast for Oculus Quest 2?
Right now, you can only share what you're experiencing on your Oculus Quest 2 by casting it to a TV using Chromecast. This works with either a device that has Chromecast built-in, a standalone Chromecast device from Google, or even with the help of an app like Chromecast Airscreen.
Why Cast Oculus Quest Or Meta Quest To Firestick?
Casting makes the overall VR experience more entertaining and engaging for everyone, when it comes to VR gaming on your Oculus Quest headset. So, whether you're playing solo or with others its always fun.