It's been a few years since its release but the Nintendo Switch is still a popular choice for young gamers. With so many games available, both online and on the shop shelves, it's no surprise that Nintendo Switch owners are running out of storage space.
The 32GB internal memory will only get you so far, after which you need to purchase a microSD card to expand your storage capacity. This can be problematic for some users as the Nintendo Switch has trouble recognizing microSD cards above 64GB in capacity.
If your 128GB or 200GB card is not recognized by your console, we have some solutions to this problem that should help fix it.
Why Is My Nintendo Switch Not Detecting SD Card?
There could be several reasons for Nintendo Switch not reading your SD Card, here are some of the most common reasons why the SD card is not working on your Nintendo Switch:
SD card is not inserted properly.
SD card is damaged.
SD card is formatted to another device.
SD card is corrupted or has become corrupted due to software issues on your Nintendo Switch, such as intermittent power outages or problems with the battery.
Your Nintendo Switch does not support that type of memory card—it's too small or too large.
Also See: How To Fix Nintendo Switch Won't Turn On
How to Fix Nintendo Switch Not Reading SD Card?
There are several things that you can do to fix the Nintendo Switch SD card not detecting the issue. Here is a list of some of the best fixes that you can try to fix this issue.
1. Clear Cache Of The Nintendo Switch
Here are the steps you need to follow in order to clear the cache of your Nintendo Switch:
1. First, open System Settings and go to the System tab.
2. Next, choose Formatting Options > Reset Cache.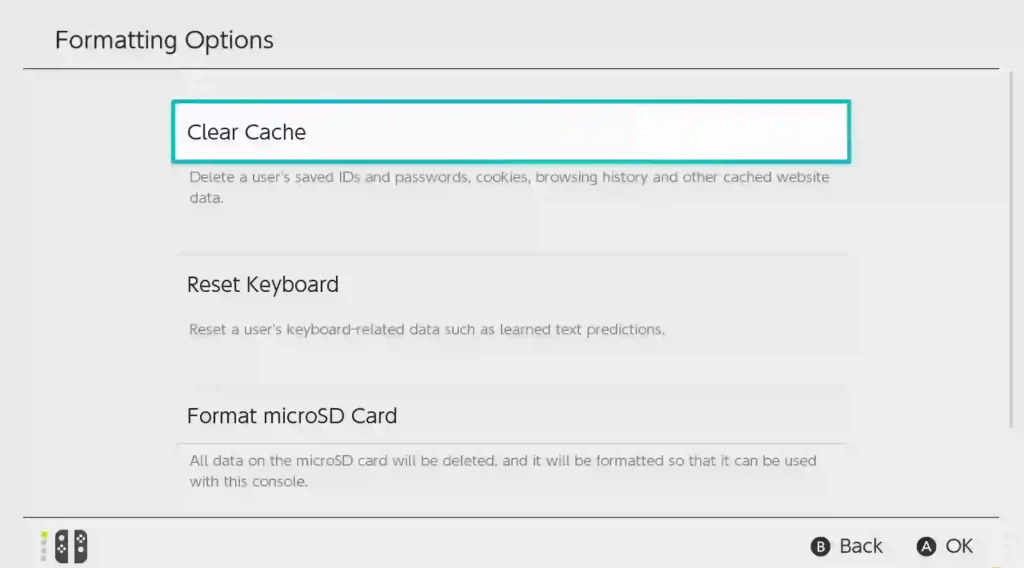 3. In the User section, select Reset to clear your Switch's cache.
4. Once it's done, check whether your Nintendo Switch can now read an SD card or not.
2. Check Nintendo Switch Recent Updates
You should check for any updates that could be related to your SD card not working.
Head on to the System Settings menu, then select System Update, and it will check for available system software updates or game updates.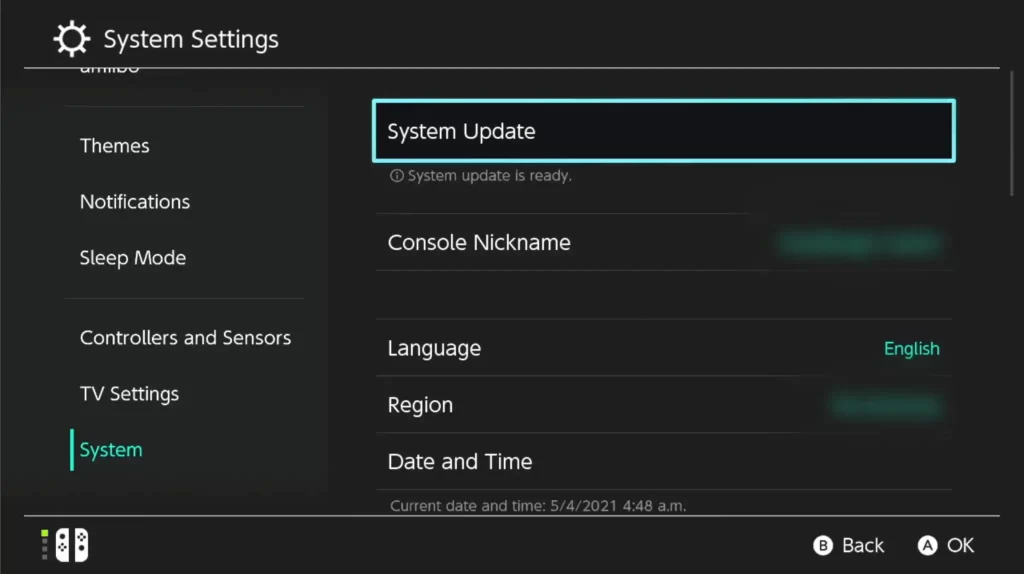 If there are any updates available, then download them and restart your console when prompted so that the new update can take effect.
3. Check Device Storage Space
If it doesn't help, the next step is to make sure there's enough storage space on your microSD card or internal storage drive of a Nintendo Switch console.
This will allow you to successfully install games through an external storage device, such as an SD card or USB thumb drive. Some people prefer using USB sticks because they're easier to remove.
Must Read: How To Fix Nintendo Switch Not Connecting To TV Issue
4. Check SD Card Compatiblility
If your SD card is incompatible, the system will display the warning "micro SD card not functioning."
Remember that only micro SD cards, not standard SD or mini SD cards, will work with the Switch.
To avoid problems, use an SDXC card and perform a system update after inserting it into your Switch.
5. Reinsert The Game Card
If the Nintendo Switch still does not read the game card, you should try to reinsert it. Make sure that your SD card is clean and dry.
Then, insert the game card back into its slot and press the power button to turn on your device. If it still doesn't work there is a problem with your Nintendo Switch SD Card slot.
6. Replace The Micro SD Card
If this method fails, it is necessary to consider replacing the SD card with a new one. This will ensure that the device is operating properly and that the SD card you were previously using was not the source of the problem.
If replacing the SD card does not solve the problem, you can seek further assistance from Nintendo's customer service.
7. Format Switch Micro SD Card
If your Nintendo Switch is having trouble reading your SD card, and you can't seem to fix the issue, you may need to format the SD card. Here's what you need to do:
1. Go to the "Home Menu" and select "System Settings".
2. Now, scroll down and select "System" at the bottom. Then, in the right options, choose "Formatting Options".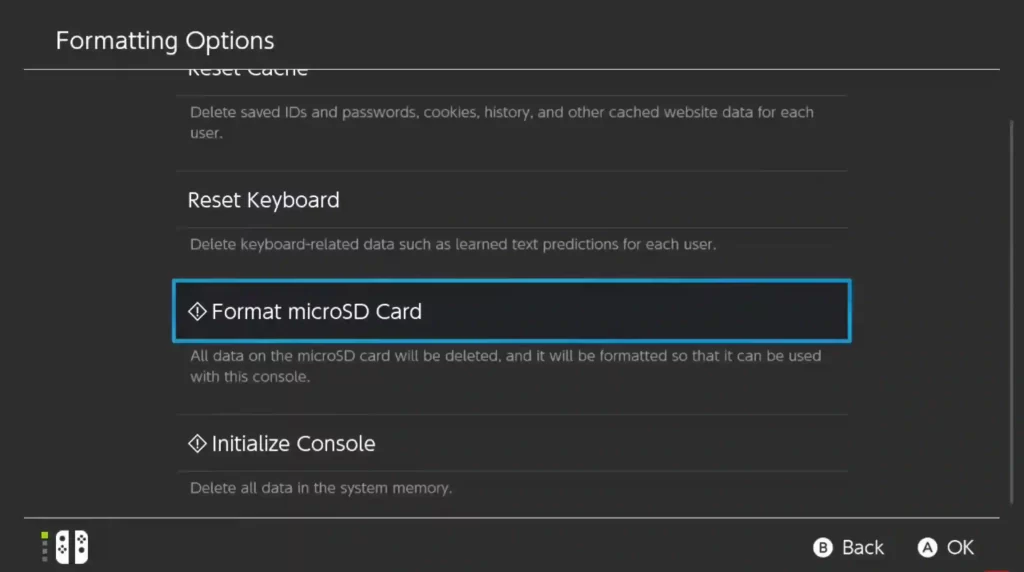 3. If prompted, enter your Parental Controls PIN. Then, select "Format microSD Card" and press "Continue".
The console will restart once the reformatting process is complete. Check if the issue has been resolved."
8. Restart The Nintendo Switch
If you have tried all of the above and the SD card still doesn't work, then there's one more thing to try.
Turn off your Nintendo Switch by pressing and holding down the power button.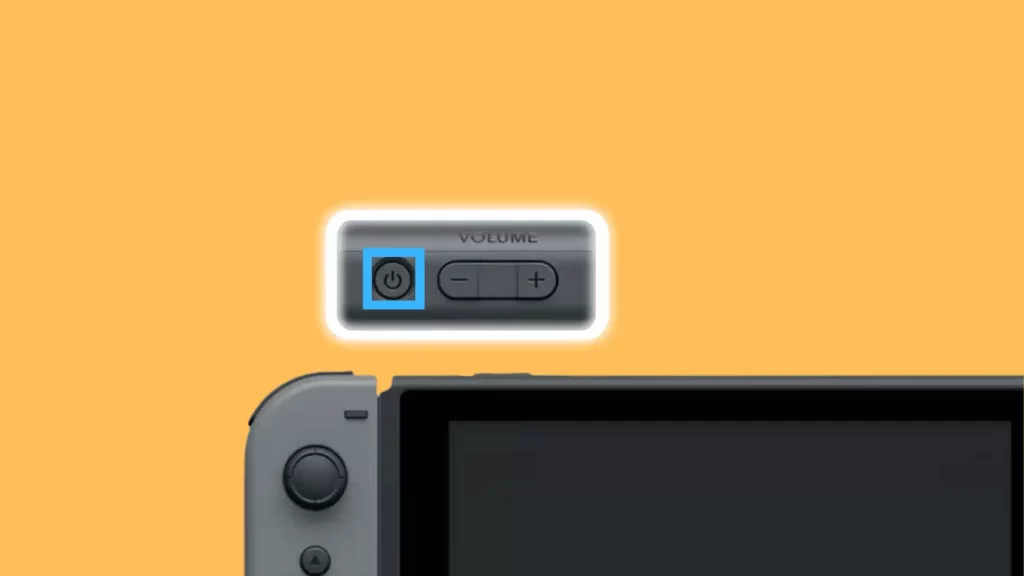 Wait for about 10 seconds then turn it back on again by pressing and holding down on the power button until you hear a second beep sound.
When you've done this, check to see if your SD card is working now.
9. Check For Game Card Damages
Check the game card for damages, like scratches or dirt. If there are any of these, it would cause your Nintendo Switch to not read the SD card correctly and possibly damage the SD card.
Cleaning your Nintendo Switch's game card using a cloth can solve this issue! If that doesn't work, try to switch out the memory cards since they might be faulty.
10. Clean The Gamecard & Game Card Slot
Use a cotton swab to clean the game card slot and game card, reader.
Take a cotton swab, dip it in some rubbing alcohol, and wipe the game card slot on your Nintendo Switch console. Do so until all dirt is removed from the slot.
Repeat this step for any other parts of your system that may have become dirty as well, such as where you insert your microSD cards into the system or where you put your Joy-Con controllers when they link up with each other in handheld mode.
Wrapping Up
Nintendo Switch is a great console, with that being said, it does have its fair share of problems. Some of these problems might be minor, but some can be quite complex and difficult to solve like the "Nintendo Switch not reading SD card" issue. Luckily, you can try various fixes mentioned above to get rid of this problem once and for all!