Asus recently launched it's brand new Vivobook Series in India on 4th September 2019, and Asus Vivobook 14 X403 is one of the fantastic laptops from this series. The Vivobook 14 X403 comes with a compact design, power pack performance, and insane battery life. So, here is my review of the Asus Vivobook 14 X403.
Asus Vivobook 14 X403 Specifications
Processor
8th-gen Core i5-8265U
Display
14-inch FullHD
Graphics
Intel HD Graphics 620
RAM
8GB LPDDR3 2133MHz
Storage
512GB PCIe SSD
Connectivity
802.11ac dual band WiFi;
Bluetooth 4.2
Ports and I/O
1 x USB 3.1 Gen 1 Type-CTM
1 x USB 3.1 Gen 1 Type-A
1 x USB 2.0 Type-A
1 x Audio combo jack
1 x HDMI 1.4
1 x SD card reader
1 x DC jack
Battery
72Wh
Price
Rs. 54,990
Design and Build Quality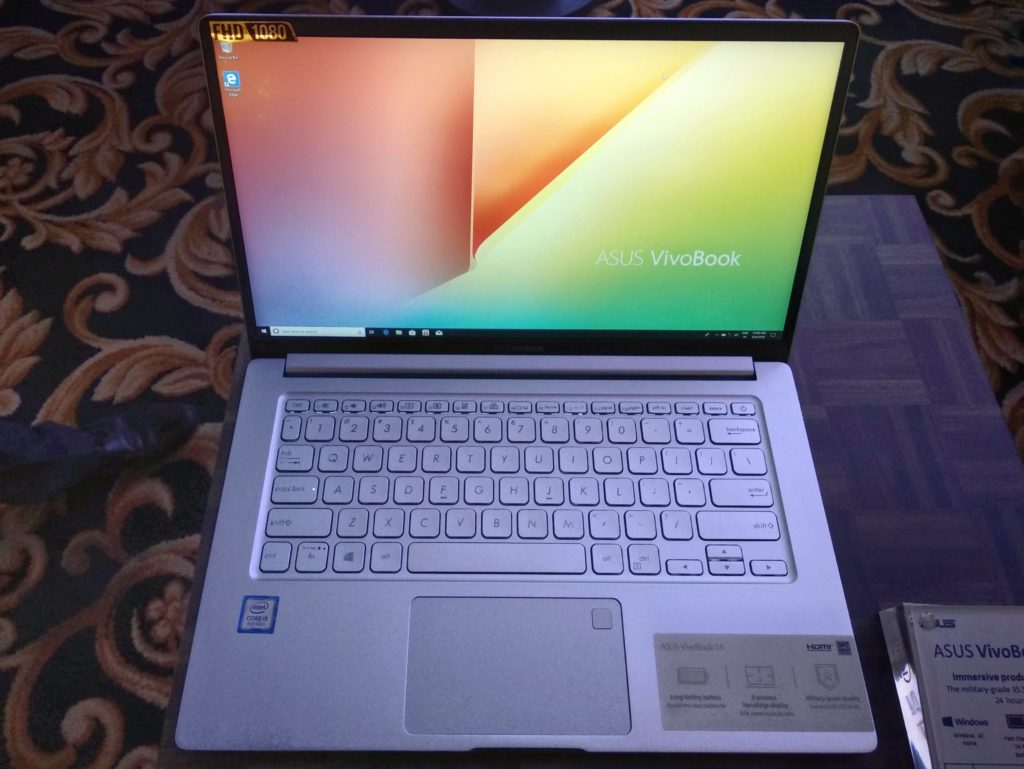 The Vivobook 14 X403 is a compact design laptop it's fragile and light in weight. The Vivobook 14 X403 weigh only 1.30Kg which makes it pretty handy and easy to carry everywhere you want. The Vivobook 14 X403 has a sleek metal body design aimed at productivity-oriented tasks, and it looks perfect for that. The silver-blue color of this laptop is just an add on to its beautiful build and design.
The Asus claims that the laptop comes with military-grade durability standards (MIL-STD-810G), it's not the sturdiest laptop, but at this price point, you can't complain. It is the sturdiest laptop I have ever experienced at this price. Asus claims that it can easily handle drops from as high up as 10 cm. It's an excellent rating to have, but I haven't done the drop test, so I cannot confirm that the claim made by Asus for the laptop holds up or not.
Coming back to the design of Vivobook 14 X403, the laptop has skinny bezels which makes the laptop a lot smaller and result the 14-inch display fits perfectly, which above the mark you'd expect. The Vivobook 14 X403 is slightly bigger than Apple MacBook Pro 13-inch 2017, but it isn't noticeable. The Vivobook 14 X403 bezels are just perfect, and I love that.
The Vivobook 14 X403 design and build quality are just perfect, and there is nothing that I can complain about. Asus has done an excellent job with this laptop as far as it's design and build goes.
Display
The Asus Vivobook 14 X403 comes with a decent size 14-inch FullHD display having up to 87% screen-to-body ratio. The display performance is decent, and it's a nice display with acceptable viewing angles. The display doesn't lose the color accuracy if you see the display from different angles, the viewing angles on this laptop are not up to the mark, and just fair in this laptop.
The Vivobook 14 X403 is offering a good display for those who watch many movies on their laptop. The display is wide enough to work on documents or browsing the web with ease. The display provides vibrant colors and good brightness, and if you want to take this laptop out in daylight, you won't face any problems with display brightness, it's pretty much decent for that.
The Vivobook 14 X403 14-inch display is of reasonable size. Which makes the laptop portable enough, that you can easily carry it to cafeteria or meeting rooms.
Performance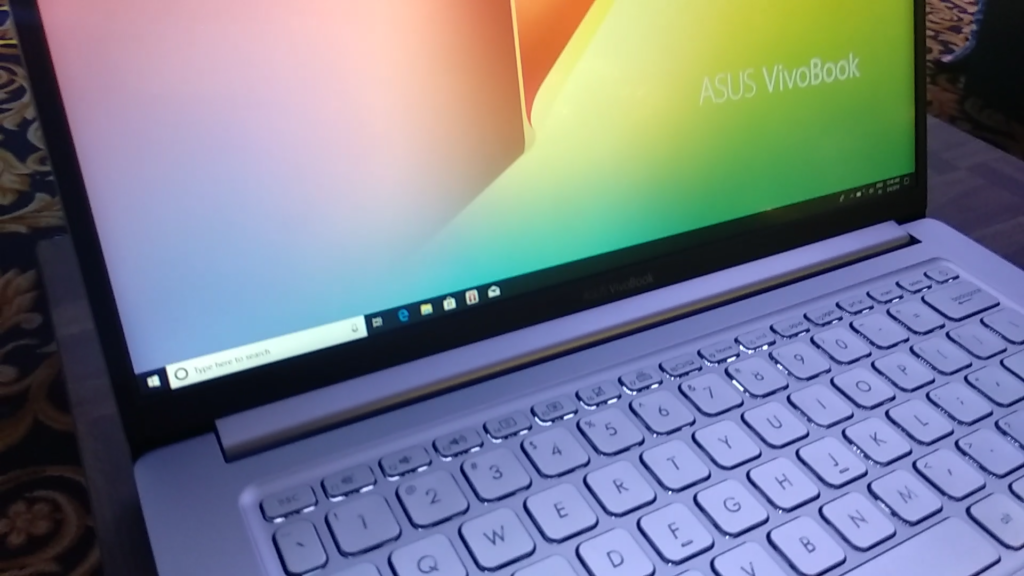 The Asus Vivobook 14 X403 packed with an 8th-gen Intel Core i5 processor and coupled with 8GB LPDDR3 RAM. The laptop comes with a 512GB PCIe SSD storage, that translates to impressive performance, and it doesn't let you down.
The 8th-gen processor is a weird choice by Asus, but you wouldn't find much difference while executing, your day to day tasks and workflows. In my long week usage of the Vivobook 14 X403, I didn't experience any freezes, lags, or any annoyance with this laptop. The laptop can easily handle multiple Chrome tabs coupled with a video editing session in Adobe Premiere Pro and doesn't let you down if you try to push it.
The benchmark scores posted by the Asus for Vivobook 14, the laptop scored 3,805 points in PCMark 10, and the score of 5,840 points in 3DMark Night Raid. The laptop maintains a pretty high score, that is meant for working professionals and productivity work. This laptop is not meant for gamers, so no gaming, please. Well, if you still want to play some games. I tried to run CS: GO in this laptop at mix low and medium setting, and got frame rate of around 20 FPS, I know which is horrible. However, If you lower the graphics, it will give you up to 50 FPS on CS: GO.
Anyway, performance should not be an issue with the Vivobook 14 X403 and can handle your day to day workflows with ease.
Keyboard, Trackpad and Fingerprint Scanner
The Vivobook 14 X403 comes with a Chiclet keyboard, and it's pretty good. The laptop has a backlit keyboard, with a white LED backlight that is bright enough. Typing on this keyboard is fun; the keys have ample travel which is nearly perfect. The keys have a little bounce, but that doesn't fatigue your fingers. I appreciate the efforts of Asus done for the keyboard because I type a lot.
The keys are having an adequate amount of spacing in between, which is excellent because these keys are flat, but I didn't find this to be a problem on this laptop. Just because of the spacing and the laid out arrow keys, you won't accidentally hit the side arrow keys, if you are trying to hit up arrow key. That's something that often happens with most of the laptops I use, and I love that.
Well, the disappointment arises for the trackpad. Asus has used an excellent touchpad with Vivobook 14 X403. It comes with handy and intuitive gestures, and it's pretty responsive, but it is too small. The trackpad is tiny, and I can't use the gestures naturally as I do, and the things get even worse because there is a fingerprint scanner on the upper right corner of the touchpad. It's not a terrible touchpad, and it's just above average rather than a deal-breaker.
The fingerprint scanner on this laptop is blazing like fast. The fingerprint print scanner is of perfect size, not too small or too large. It's nice to have a fingerprint scanner in this one because, every time I don't have to enter the picky pin or password to unlock the laptop, it's just one tap away to unlock, and that's great.
I/O and Ports
There are the right amount of I/O ports available in the Vivobook 14 X403. There is a USB-C, port, 2x USB 3 port, SD card reader, and a headphone mic combo port, I know that's not too many, but it's, enough for a laptop that is, as thin and sleek as this one, and having a USB-C port is a plus point. You will not feel any shortage of ports on this laptop, but if you feel so then, they're a lot of USB-C dongles are available in the market that will bring more I/O and ports to your laptop.
Battery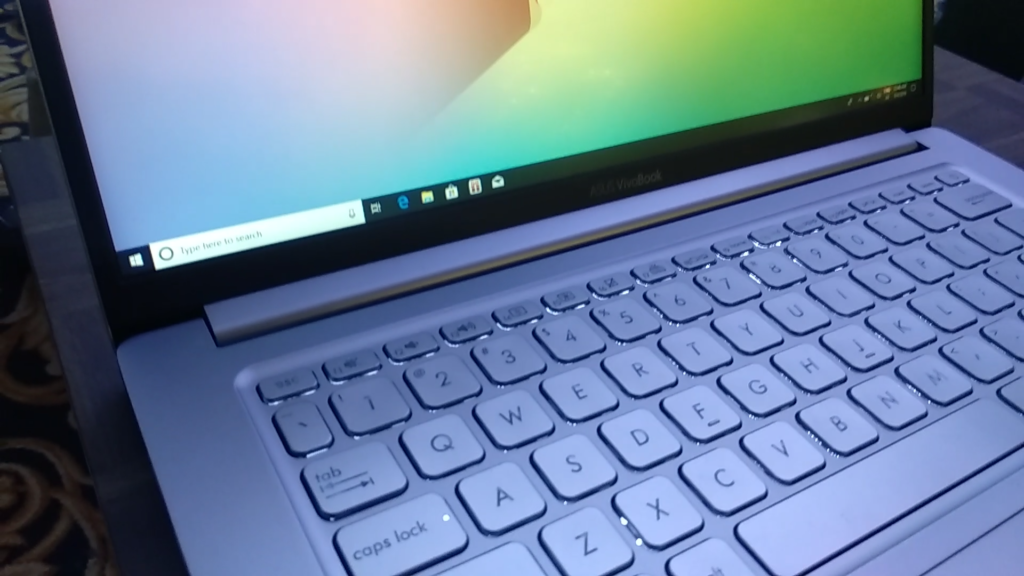 The Vivobook 14 X403 comes with a massive 72w battery, and Asus manages to put this massive battery into this sleek beauty. Asus claims 24 hours of battery life in this laptop, but as I used this laptop for a day-long on a single 100% charge. It manages to give me around 15-16 hours of battery, and that's insane.
You can easily use this laptop for a workday in your office, and still, a right amount of juice left over for watching your favorite Netflix shows back home without charging. The Vivobook 14 X403 have no problem keeping up throughout the day, and I that's great for a heavy user like me, and I love that.
Pros and Cons
Pros:
• Fantastic Battery Life
• Amazing Performance
• Blazing Fast Fingerprint Scanner
Cons:
• Tiny Trackpad
Verdict
The Asus Vivobook 14 X403 is a fantastic laptop with impressive performance. Many laptops put in shame when it's come to battery life, but that's not the case with this laptop. This laptop had a great battery life that keeps up throughout the day, and that's what we all look in a laptop, and it doesn't disappoint you there. The laptop is powerful enough to handle all of your work needs with ease. The Vivobook 14 X403 is an excellent choice for working professionals, and for students also who are looking for a laptop that lasts throughout the day. It's a great laptop for girls also as they need a light weight laptops to carry around. At Price of Rs 54,990, I have no issues recommending this laptop to people who need it for handling their productive tasks.