Sometimes when you are logged in to your Facebook account you suddenly get a popup message stating "Facebook App Session Expired". It happens because Facebook sessions were designed to expire so that no one else could access your important and personal data when you are away from your phone or computer. But, it becomes annoying when Facebook continuously log out of your account even if you are active.
In today's post, we are going to answer all your questions such as Why does my Facebook keep saying the session expired? and How to fix the Facebook Session Expired issue? We found the 6 best ways that you can try to fix the Facebook Session Expired error on your phone and PC.
How To Fix Facebook Session Expired Error In 2023
How To Fix Facebook Session Expired Issue
Fix 1. Log In Facebook Again
If the Facebook session expired message keeps flashing on your screen.
Click on the error notification and follow the steps to enter your Facebook account login details.
Even after you have dismissed the error message, it is still possible that it can reappear on your screen.
Fix 2. Update Facebook App
Check your smartphone to ensure that the Facebook app is running on the latest version.
Navigate to your phone's app store, and install the current version of the Facebook app.
Now, verify whether the update resolves the Facebook session expiring problem or not.
Fix 3. Reinstall Facebook App On Your Device
If upgrading the app does not work, you can uninstall and reinstall the Facebook app again.
Go to Settings >> Apps and Notifications >> App Management.
Click Uninstall to remove the Facebook app from your device.
By reinstalling the Facebook app, you should be able to resolve the Facebook session expired issue.
Fix 4. Clear Browser Cache And Data
If the Facebook session expired error persists, try clearing your browser's caches and browsing data.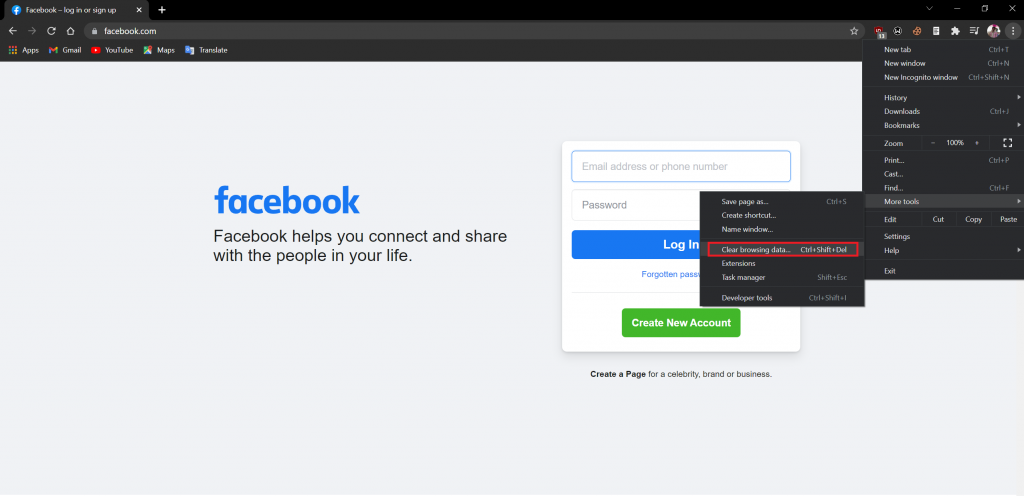 To clear browsing data from your Chrome browser, go to the three-dot menu in the upper-right corner.
After that, choose a time range and check Cookies and other site data options, as well as Cache photos and files.
To remove Chrome's cache, click the Clear Data option.
If you want, you can erase the cache for the whole Facebook site at once.
Fix 5. Remove Facebook Account
Go to your phone's Settings.
Go to Accounts, and then select Facebook.
Select Remove Account to remove your Facebook account from the device
After that, you'll be able to Re-add your account.
Fix 6. Disable Malicious Browser Extensions
In Chrome, click the three-dot icon.
Go to More tools >> Extensions and disable any malicious extensions.
Then verify whether the Facebook session issue is fixed.
Also Read: How To Find Twitter URL To Share On Instagram & Facebook
#Fun Fact: How Facebook Session Expired Error Work
Facebook sessions were designed to verify that your Facebook account is active in its service. The session depends on the data that has been cached on your PC or mobile phone. The session will be terminated if the cached data is mistakenly or willfully erased.
The caches will be cleared under a number of different circumstances:-
1. Close the Facebook app on your phone.
2. Log out of the Facebook application manually.
3. Forcibly log out of Facebook for unclear reasons.
4. Configuration of the browser's cache.
5. Delete browser or device caches.
What happens when a session ends? In most cases, when a Facebook session ends, the session collection is deleted, and you will be signed out of the Facebook account. You will be prompted to log in over again.
How To Log Out Of Facebook Account?
To log out of Facebook on a computer, click the down arrow icon in the top-right corner of the page and then click Log Out. It's necessary to manually log out of all your Facebook account on each device if you've signed into your account on several devices.
Wrapping Up!
If you want to take a break from Facebook for a limited period of time, you can also deactivate Facebook account for a short term. You can use the 6 suggestions listed above to resolve the Facebook session expired issue in 2023. Also, share this article with your friends and family and save them from this annoying issue. For more How-to-Guides and the latest tips check out our other posts too.