MIUI 11 is the most awaiting UI upgrade that Redmi or Mi smartphone users are eagerly waiting to experience, and the new features that it brings. Xiaomi India introduced the MIUI 11 at the launch event of Redmi Note 8 Pro. Mr. Manu Kumar Jain(Global Vice President of Xiaomi) said that all the Redmi devices that are capable of running MIUI 11 will get the updates till December. Now, most of the devices already got the update and some are still under progress. So, here we are ready with the list of MIUI 11 hidden tips and tricks that will help you to utilize the features of Redmi Note 8 Pro effectively.
The below tips will help you in getting the most out of your Redmi Note 8 Pro and discover many of its hidden features as well.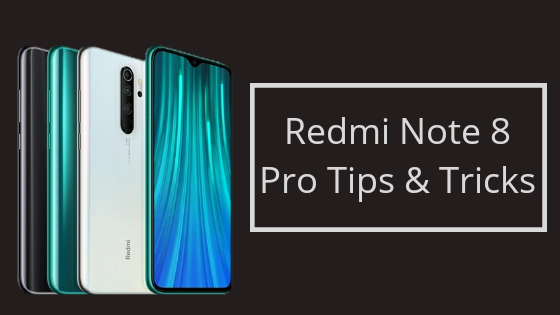 1. Remove Ads on Redmi Note 8 Pro
You can't totally get rid of ads, but you can remove them from the most important places. Here's how you can do it.
Remove home screen suggestions: Long press anywhere on the home screen and tap on Settings. Now turn off recommend from the launcher settings.
Remove recommend apps from App vault: The app vault, which is the most usable feature of MIUI on Xiaomi phones, also shows app recommendations. Just tap on the Settings icon on the top and disable the recommended option. You may also customize the app vault as per your needs from the same place.
Disable app scanner: You might also see app recommendations on the scanner screen whenever you install an app. You can disable it by tapping on the Settings icon and then just disable all the highlighted options.
In like manner, you can also disable lock screen magazine content from Settings>>wallpaper or disable ads in individual apps like the video, Applock, file manager, browser, cleaner, and music players, etc. from the specific app settings.
2. Dark Mode and Adjust Colours
The Dark Mode is the most demanding feature these days and for good reason. If you want to try dark mode across the UI and across the popular apps that you use. You just need to go to Settings>>Display and turn on the 'Dark Mode' option.
From the same menu, you can also adjust color temperature and opt for more warm tones that are less harsh on the eyes. The color customization works for the "Automatic contrast" mode only.
3. Quick Replies
This feature is not exactly like quick replies that Google provides in Android 10. But if you wish to use the quick replies in MIUI, go to Settings>>Special features. Now, enable the 'Quick Replies' option and select the message apps for which you wish to use this feature.
Once the feature is enabled, you will see a text field under incoming message notifications and you will be able to reply to these messages directly from the floating notifications without switching the app.
4. Manage Alexa
The Redmi Note 8 Pro is the first smartphone in India to launch with Alexa integration out of the box. The Alexa works great for us but some of you guys said that it is not working well for you.
If you are irritated with the notifications of Alexa, you can disable it by just long pressing the icon and turn them. The unpredictable behavior was also noticed after using the cleaner app.
You can customize Alexa Under Settings>> Alexa. If Alexa is the assistant you mostly use, you can also set it as your default assistant. Go to Settings>> Apps>> manage apps>> triple dot>> default apps. From here, select Alexa as your Assist app and Voice Assistant.
5. Blur Recent Apps
The recent apps Window show snippets of what you have been doing within the apps and this can compromise your key information. Someone unintentionally switching the apps on your phone could see your bank balance or your private notes that you have been jotting.
The Redmi Note 8 Pro has a great feature to blur recent apps. To do so, go to home screen settings by long-pressing anywhere on the home screen and then tap on the Settings option. Now, select 'more' settings options and enable the "Blur Preview" option in the next menu. Now, you can select the apps whose previews you want to blur.
6. Headphone and Audio Effects
If you are a music lover and would prefer to fine-tune audio via headphones on Redmi Note 8 Pro, you will find an equalizer and other Xiaomi-headphones-based
audio presents under Settings>> Sound and Vibration>> earphones.
if you own a Xiaomi headphone or If audio customization is your thing, this could be a handy tool for you.
7. Fast Face Unlock
If Face recognition is your preferred means of unlocking your smartphone, you can make it faster by enabling the raise to wake feature. As soon as you pick the phone from anywhere, the face unlock will get into action and you will be able to experience tad faster unlock. It's kind of similar to what Project Soli dose, right?
To enable raise to wake feature, go to Settings>> Lockscreen >> enable raise to wake.
8. Monitor and Limit Phone Usage
As essential our phones may be, there are many sources of distraction and can affect your productivity and overall well being. It is necessary to limit or at least monitor your daily phone usage.
There is an effective tool that lets you do it that is Digital Wellbeing. Go to Settings >> digital well being>> Dashboard, and from here you can set a time limit and monitor for individual apps. After your permitted time completed, the certain app will still work but it will be greyed out.
9. Turn off Floating Notifications
Floating notifications can be really annoying and you might not random notifications from random apps cut in on your experience. But, at the same time, these floating notifications can be convenient at times you are waiting for an OTP to arrive or when you don't want to miss any important chat message.
The Redmi Note 8 Pro has the options that let you choose certain apps that you don't mind pushing notifications to your screen. Go to Settings>> Notifications>> floating notifications and choose apps that you prefer.
10. Call Identification and Call Recording
Truecaller has become increasingly spammy and though we don't have genuine third party alternatives. Now, the OEMs have stepped up to provide inbuilt alternatives on their smartphones.
Most of the brands like Vivo, OnePlus, Samsung, and Oppo, Xiaomi too has an inbuilt call identification feature in call settings. You can access it by opening the dialer app and then going ahead to settings. The caller ID feature works well in Xiaomi phones and will only get better as more consumers start using it.
11. Remap Buttons
If there are some actions that you frequently do on your phones and if you want to speed up such actions, you can assign dedicated hard or soft buttons to them.
On Redmi Note 8 Pro all the buttons and shortcuts options are listed under Settings >> Additional Settings >> Buttons and Shortcuts.
To get rid of navigation buttons altogether, go to Settings>> Full-screen display and select gestures.
12. Navigate with Quick Ball
The Redmi Note 8 Pro comes with a Quick Ball menu, which provides you few handy shortcuts at your disposal. You can place the icon anywhere on the screen's edge.
To enable the quick ball all you need to do is go to Settings >> Additional Settings and toggle the switch on. What makes this agile menu even better is that you can also customize some of the buttons of it.
13. One-Handed Mode
The displays of phones are expanding day by day, with this it gets uncomfortable to reach the ends of the phone with a single hand. To handle this, MIUI comes with a one-handed mode that can be activated from the Settings >> Additional Settings >> One Hand Mode. There is another interesting thing to note, that MIUI allows you to select between different display sizes including 3.5-inches, 4.0-inches, and 4.5-inches.
14. Second Space
As seen in the earlier versions of MIUI, Xiaomi provides a pretty useful option to create a second space to accommodate sensitive data or to share the device between two different lifestyles(work & personal). These two spaces can be created with different passcodes and different fingerprint impressions so that they can be effectively utilized by multiple users.
15. Three Finger Screenshot Gesture
If you want to quickly take a screenshot on your Redmi Note 8 Pro. You can take the old way of pressing and holding the Volume down and Power button simultaneously or you can use the more convenient gesture of simply swiping down on the screen with just 3 fingers. You can enable this feature
from Settings >> Additional Settings >> Gesture.
16. Game Speed Booster
If you are an intense gamer, you should take advantage of the Game Speed Booster option in MIUI 11 on Redmi Note 8 Pro. It improves your overall gaming experience by killing unnecessary background processes and apps.
Once the option is enabled, it will clear background cache to free up memory for gaming, boost the game connection, improve CPU performance speed while limiting background download speed to reduce the network delay, and also silence notifications, and turn off buttons to avoid accidental keypress.
You can find the Game Speed Booster option in the Security App.
17. Customize Quick Settings
The Quick Settings panel in Redmi Note 8 Pro packs plenty of toggles, too many in fact that it might be devastating for most of the users. Depending on your preference though, you can remove or add more toggles to the Redmi Note 8 Pro Quick Settings panel.
Simply expand the Quick Settings panel and select the edit option to proceed and reorder the tiles as you wish.
18. App Vault
The leftmost home screen panel on Redmi Note 8 Pro is for App Vault. This app vault contains a collection of system apps, third-party apps, and other services, and you can not disable this feature (without root).
You can edit and rearrange the App vault items to an extent. However, you can shift unusable items to the bottom. You can add Quick Pay to 'shortcuts' for Mi Pay or Paytm payments, add countries to follow cricket scores, and add your work and home address details to conveniently book Ola Cabs.
19. Lock Screen Shortcuts
Xiaomi has included quick shortcuts on the lock screen for Mi Remote, Mi Home, and Torch. These quick shortcuts can be accessed by swiping to the left on the lock screen. Well, this makes sense as these features do not pose any threat to the security of the smartphone and can be accessed by anyone.
20. Use Fingerprint Scanner as Shutter Button
You can use the fingerprint scanner on the Redmi Note 8 Pro as a shutter button while using the camera app. This feature is really handy and helps while taking photos especially selfies where it can be quite difficult to press the shutter button. You can enable the option from the settings menu of the Camera app.
21. WiFi Passthrough
Xiaomi has brought up another cool feature with the new Redmi Note 8 Pro. It often happens that due to device number limitations, we cannot connect multiple devices to our WiFi router. But, thanks to this new feature called WiFi passthrough, after connecting to a WiFI network Redmi Note 8 Pro allows you to access data on your tablet or laptop by transferring the data through itself without the need for the other devices to be connected to the WiFi router.
22. Double-tap to wake screen
This feature is pretty useful in cases when you just want to take a look at the notifications without actually unlocking the phone. You can find this option under the display settings and you just have to enable the Double tap screen to wake option.
23. Dual Apps
This feature allows you to toggle between different lifestyles. You can create dual apps for social networking apps like Facebook, Messenger, Whatsapp, etc. This feature can be found in the Settings under Dual Apps Section.
To Clone, any app just goes to Settings >> Dual Apps. Now, select the preferred app you want to clone.
24. Hide the Notch
Not a fan of the notch on the Redmi Note 8 Pro? Thankfully, you can hide it. While the display is not AMOLED, turning off the notch does work pretty well as it fades away from one's peripheral vision. To turn off the notch on the Redmi Note 8 Pro, head over to Settings >> Full-screen display and toggle the Hide Screen Notch option on.
25. App Lock
MIUI 11 on the Redmi Note 8 Pro comes with an inbuilt app lock to lock and protect apps using the fingerprint scanner or pattern. Given the amount of private data that one keeps in their device, one would definitely like to keep a few apps protected.
You can find the App Lock feature in Redmi Note 8 Pro under Settings >> App Lock.
26. Quickly Share Wi-Fi Password
Want to quickly get your friends on the same Wi-Fi network as your Redmi Note 8 Pro without sharing the password? If they have a Xiaomi phone with MIUI, you can instantly share the password with them.
Go to Settings >> Wi-Fi, tap on the name of the Wi-Fi network your Redmi Note 8 Pro is connected to and a dialog box will pop-up with a QR code. Ask your friends to open their camera app and scan the QR code, and their device should automatically connect to the same Wi-Fi network.
27. Wake with Volume Buttons
Don't want to rely on the power button to wake up your Redmi Note 8 Pro? You can also use the volume buttons to wake the device up from sleep.
You can enable this option from Settings >> Lock screen & password and toggle the Wake with volume buttons option on.
28. Flip to Silence Incoming Calls
Want to quickly silence incoming calls on your Redmi Note 8 Pro? Then just put the phone face down on a table or if it is already on a table, just flip it face down. Just make sure to enable this feature from Settings >> System Apps >> Call settings >> Incoming call settings and enable the Flip to silence ringer option on from here.
29. Enable the Intelligent Sleep Mode
Yes, your phone is intelligent and that is why it has been considered as a smartphone. However, the MIUI 11 on the Redmi Note 8 Pro makes it a little bit smarter. It has the new Intelligent Sleep Mode. This cool feature uses machine learning to predict your sleep routine and disables switches and radios such as Bluetooth, NFC, and Wi-Fi accordingly to save power.
You can find this setting under the Battery >> Manage app's Battery usage >> Scenarios.
30. Using Data from the Second Sim While Taking a Call on the First
A lot of users faced this situation in which, while taking a call using a VoLTE enabled sim, the data connection of that network gets unstable. To handle this situation, Redmi has included a new feature to switch the data connection to the second sim while on a call from the first sim. You just need to enable the feature on from the sim card and mobile network settings.
31. Do more with the Gallery
The Redmi Note 8 Pro comes with a built-in collage maker. This feature will let you choose from a couple of layout options.
To open this option, go to the gallery app, tap the three-dot menu and select Collage.
Moving on, the MIUI 11 in the Redmi Note 8 Pro means that you get the Erase option in the image editing tool. So, the next time you want to remove unwanted objects from pictures, you know which buttons to press.
To access it hit the Edit option, select Erase and tap on the area where you'd like the objects to be removed.
So, these are some of the MIUI 11 tips and tricks you can use in your Redmi Note 8 Pro. Do you use the features mentioned above, let us know in the comments section below.