Stock Android is one of the best minimal and clean user interfaces and OxygenOS is right behind it. But, there are a lot of hidden features, tips, and tricks that make OnePlus smartphones stand out. Everyone should check out these amazing features once. Today we are here with the detailed guide of the OnePlus 7T Pro with OxygenOS 10. Assuming, it's not the hardware alone that defines a smartphone. Software is also a mandatory part of making it a complete experience.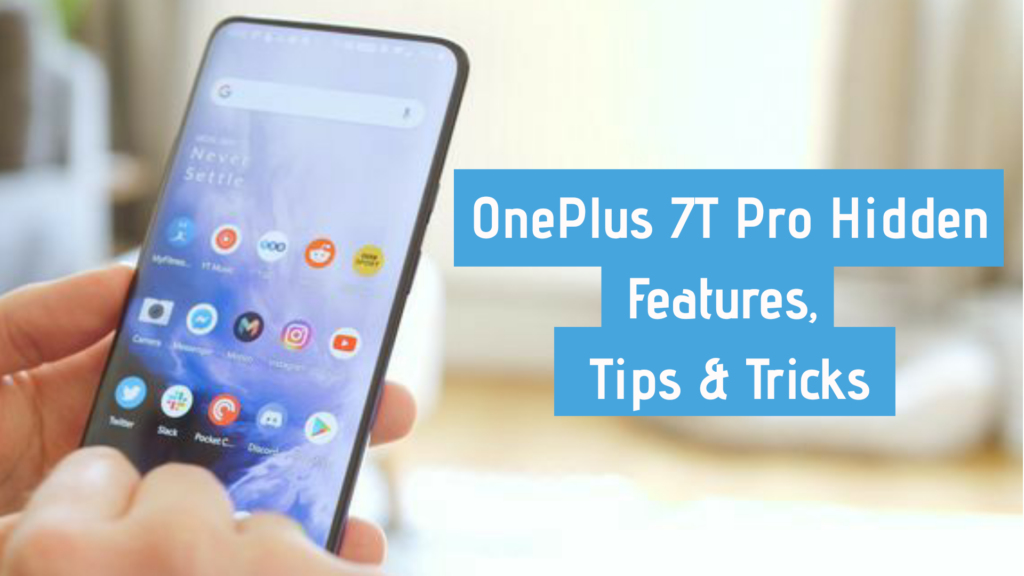 OnePlus has released the latest version of OxygenOS with the release of its all new flagship OnePlus 7T Pro. There are a lot of new features add to the latest version which you haven't noticed yet. So, here is a list of all the hidden features, tips and tricks of OnePlus 7T Pro you should know about, to make your OxygenOS experience more smoother on OnePlus 7T Pro.
1. Power Button as Google Assistant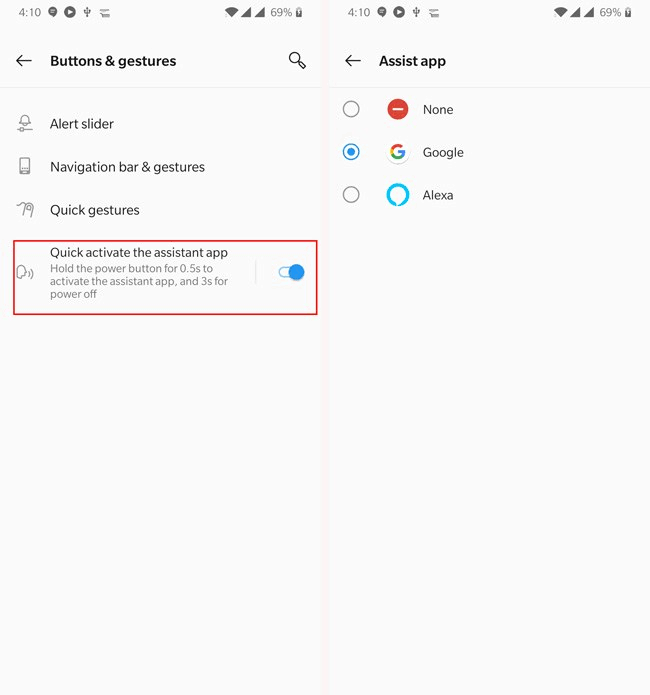 Smart Homes and Smart IoT devices are becoming popular day by day. Therefore, most of the people are interacting with these smart devices using voice commands. If you are a frequent user of smart assistants like Google Assistant or Alexa. On OnePlus you can remap long-press action of the power key to activate Google assistant. To enable this option, Go to Settings >> Buttons and Gestures.
2. App Locker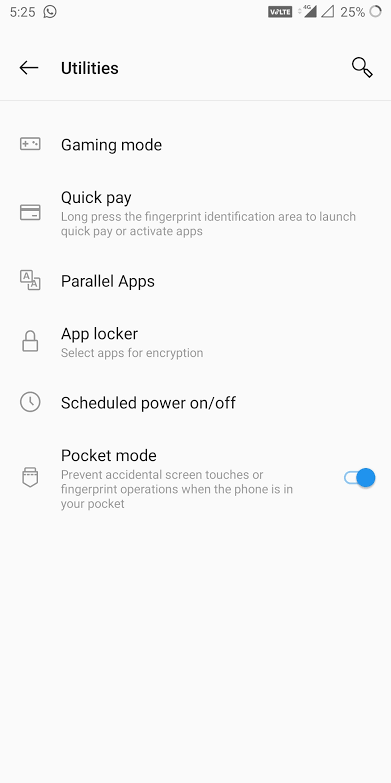 The App Locker on OxygenOS secures your fragile apps from snoopy eyes. You can use a PIN, Pattern, and Fingerprint Scanner to unlock the app, which assure that nobody else can use it. This feature can be enabled for any app on your phone.
To set an App Lock on a particular app you need follow given steps. Go to Settings >> Security & Lock Screen >> App Locker and Type in your PIN code or draw the Pattern. Than tap the "Add Apps" option and choose the apps you want to setup a lock on. For an extra layer of security this feature also lets you hide sensitive notifications content.
3. Share Wi-Fi Password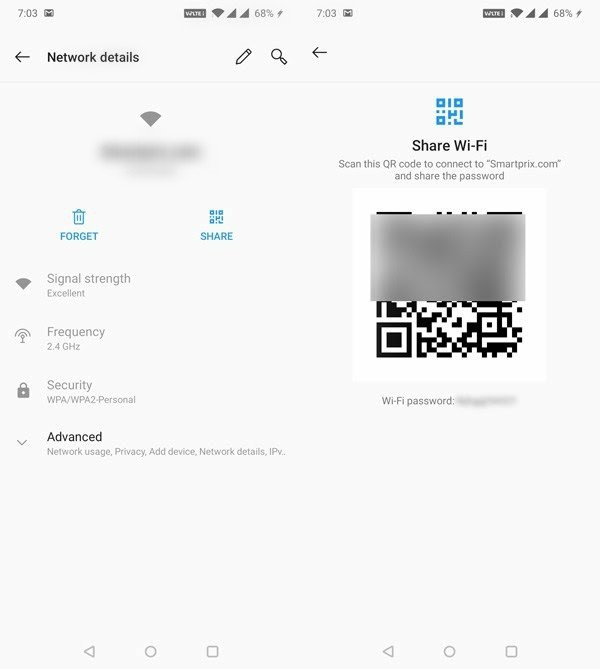 With OxygenOS 10, now evey user can share their Wi-Fi password using QR code and can easily see the password for networks your phone is connected to. To share your QR code just Go to Settings >> Wi-Fi >> Share Wi-Fi Password. After authenticating successfully request by drawing the unlock pattern or entering pin. Now, you can see the Wi-Fi password and easily share it with your family and friends using QR code.
4. Adjust Refresh Rate and Display Colors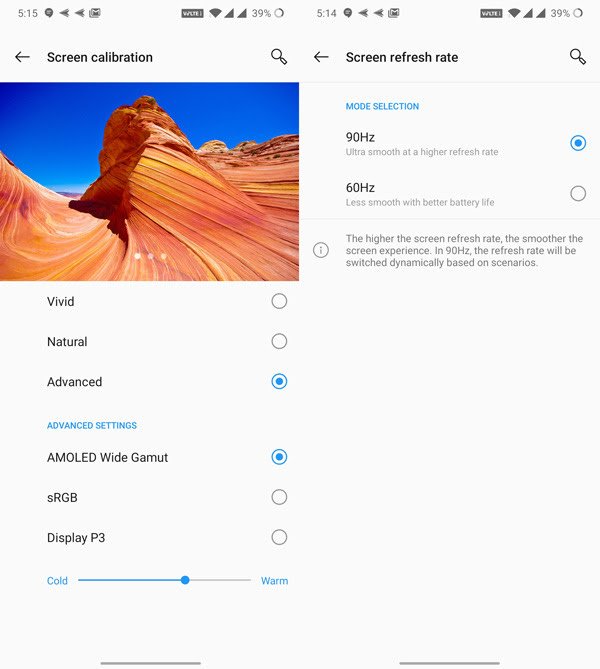 OnePlus 7T Pro comes with a 90Hz refresh rate display which makes the user interface experience extremely smooth. However, You can switch to 60Hz refresh rate on days when you need to save phone's battery.
In OxygenOS 10 the default "Vivid" color profile has been upgraded by OnePlus, but you can also change it to the "Natural" mode or try out some other options available for warmer tones that are convenient for eyes.
5. Hide the Notch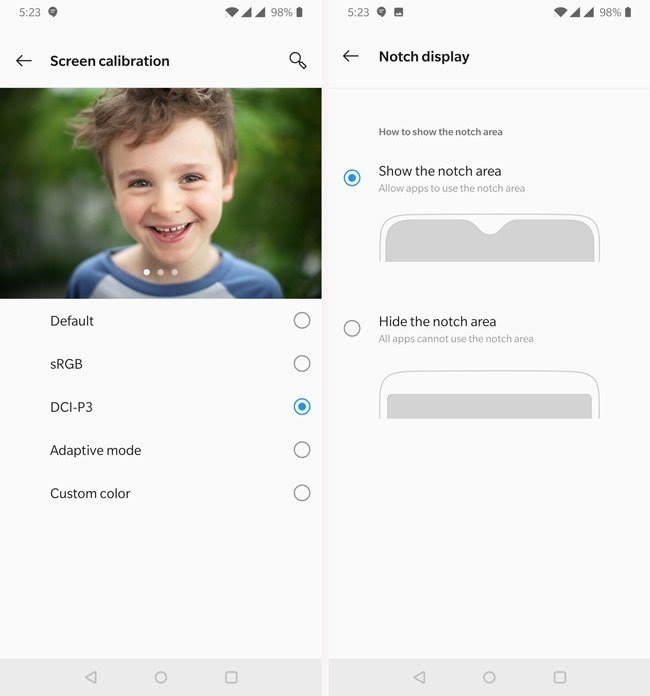 As we all know that OnePlus 7T Pro don't have a notch. But other phones like OnePlus 6/6T the notch size has been reduced on to an extreme extent. However, its still a notch, and some people wants to get rid of it. OnePlus includes a feature on OxygenOS 10 to do that, first Go to Settings >> Display >> Notch >> Toggle on the Hide the notch option.
6. Navigation Gestures
OxygenOS 10 gives you a set of useful gestures so that you can easily perform actions. You can take a screenshot in OxygenOS by swiping down three-finger on the screen, It is a great alternative to the default way of taking a screenshot. You can also launch apps and control music playback using other gestures.
One of the amazing gesture of OxygenOS is that you can take a photo by long pressing on the camera sensor. It comes in handy if you tend to take self-portraits with the rear camera.
OxygenOS 10 navigation gestures are quite similar to iPhone 11 gestures. These navigation gestures will help you to get rid of the navigation bar, and free up small space on your screen. These gestures offers you to navigate the interface in more intuitive way.
7. Gaming Do Not Disturb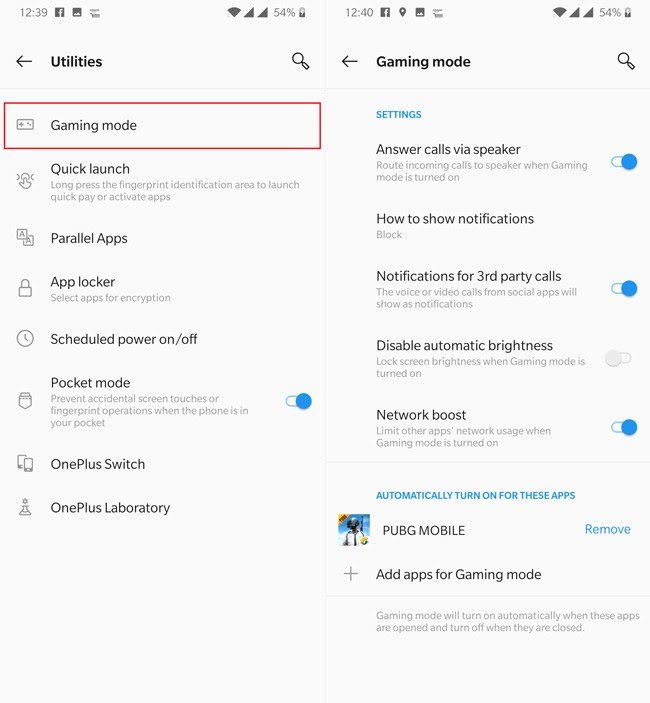 Do Not Disturb is an amazing feature not just while playing games, but also when you use any other app that needs your attention. You can quickly enable this feature by going to Settings >> Advanced >> Gaming Do Not Disturb. The Do Not Disturb mode prevents any pop-up notifications for a particular app, but it allows alarms and calls to go further.
When you turn this feature on, the capacitive buttons at the bottom of the phone screen gets disabled. This is useful while playing games or watching videos with the phone held from sideways. There is no chance of hitting keys at the bottom accidentally. You might be thinking if the keys don't work then how does one can exit the app? It's simple you need to swipe down twice on the notification drawer and turn it off, and you are good to go.
8. Swipe to Unlock
OnePlus 7T Pro comes with a face recognition feature that unlocks the phone pretty quick. Well if you are using the face recognition feature as a primary option to unlock you device, then it may be annoying when you wake up your smartphone to look at the notifications, and it unlocks! You can disable automatic unlocking of smartphone directly by going to Settings.
9. Quick Launch Shortcuts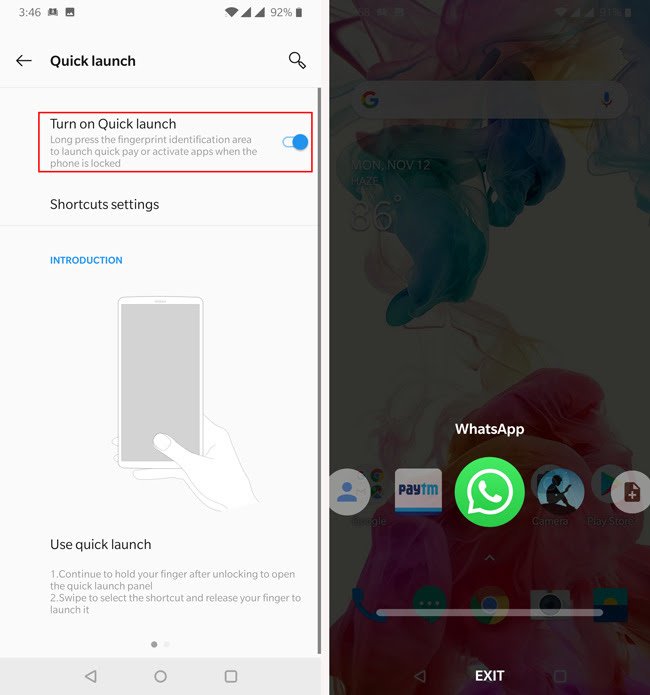 The Quick launch shortcuts option lets you directly use system shortcuts, app shortcuts, and apps. Using the in-display fingerprint sensor, you can access system shortcuts while unlocking your smartphone. You can access system shortcuts by pressing the display area for a little while and the quick launch shortcuts will pop-up. To configure quick launch shortcuts, Go to settings >> Utilities >> Quick Launch Option.
10. Shelf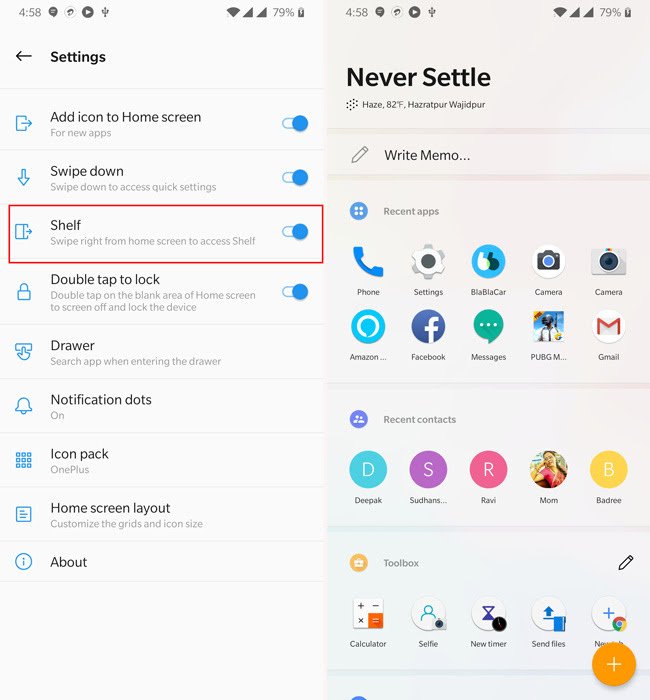 In OxygenOS, shelf is a productivity tool on phone's home screen. Shelf is filled up with multiple functionality it shows you the weather, gives quick access to recent apps & contacts, and lets you create notes. There is a Dashboard available, that shows the current state of your phone. It includes current battery percentage, available storage, and how much data you have consumed in given cycle.
You can also customize the shelf, but only to an extent, and widgets of any app that you have installed on the phone and delete that you don't need. Now, notes can be edited too, however this feature was not enabled before. It is not possible to manually choose contacts to appear in shelf, as it only lists last five to ten contacts that you recently called.
11. Reading Mode
Reading Mode was introduced to us with OnePlus 5, and is an amazing feature on OxygenOS. This feature is like Night Mode it automatically adjust the color temperature of the display, making it convenient for eyes to read.
Instead of adjusting colors to the warmer side, Reading Mode produce an effect like monochrome that is convenient for reading text. You can enable the Reading Mode manually or you can automate it for certain apps. In addition, if you have installed the Amazon Kindle app on your OnePlus 7T Pro. You can activate Reading Mode, and set it to automatically launch whenever you open the Kindle app.
12. Switch Off OTG
The feature of OTG on every smartphone lets you connect a USB drive to the smartphone to transfer data. You can also use the OTG connector to connect a USB mouse or a keyboard to your smartphone, it will make the work easier. If you keep this option enabled for a long time, it may drain the battery of your smartphone when it is not connected to any OTG device. You can disable this option by going into Settings >> System >> OTG Storage, and try to save some battery.
13. Parallel Apps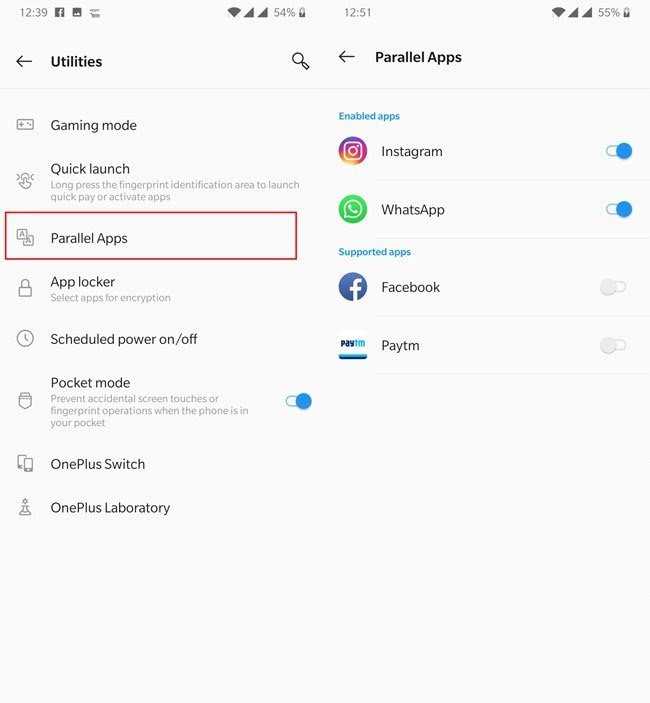 The Parallel Apps feature can be found in most of the smartphones nowadays including Xiaomi, Realme, Vivo, and Oppo. The Parallel Apps feature let you use more than one account for the similar app like WhatsApp or Snapchat. This feature is available on OnePlus 7T Pro too, just Go to Settings >> Tools and Utilities >> Parallel apps, and select the apps you want to clone.
14. Schedule Do Not Disturb
The Alert Slider on OnePlus devices has been a centrepiece since the OnePlus 2 was launched, and this year the Alert Slider feature is getting a new update that makes it more convenient. With the OnePlus 7T Pro, you can use the Alert Slider to toggle between ring, silent, and vibrate modes, the DND mode has its own set of features.
In Do Not Disturb mode you can set your custom rules, and configure the timings so it get started automatically. Now, you don't have to toggle the Alert Slider every night.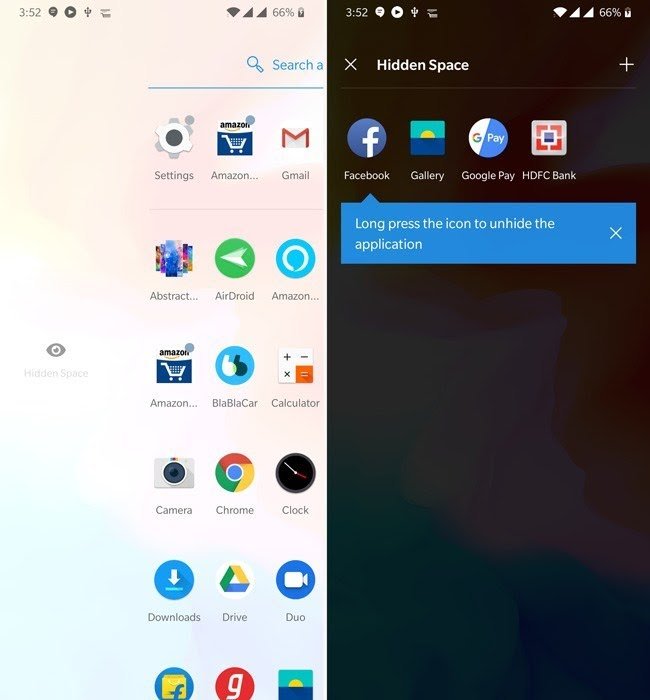 OnePlus also has a hidden space available to hide apps. You can hide certain apps you want to keep private from snoopy eyes. If you want to move them back to the app drawer, just long press on the app icon.
To access hidden space feature on OnePlus devices, you just need to open the App drawer and then drag the App Drawer from sidebar on the left, and you will see the hidden space.
Also Read : 30+ MIUI 11 Tips And Tricks For Redmi Note 8 Pro
16. Face Unlock
OnePlus brings Face Unlock feature with OnePlus 5T, and it is quite fast the manufacture's implementation is the best till now.
The Face Unlock in OnePlus tracks 100 data points on your face to verify the facial features of the user. However, the fingerprint scanner is more secure than face unlock. OnePlus says that, it is more convenient to unlock the smartphone using a face recognition feature.
17. Ambient display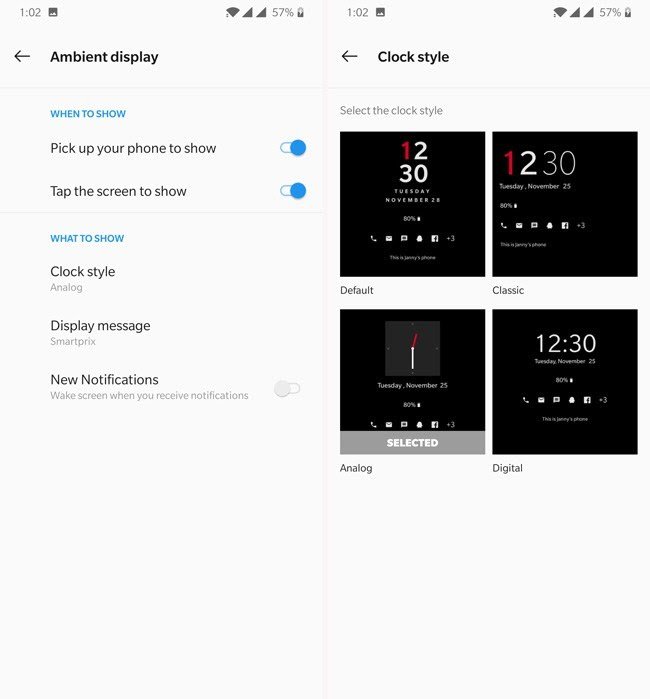 The Ambient display feature lets you easily access the time and clock widgets, as well as incoming notifications from different apps. There are a lot of clock faces available to choose from, and set a custom display text on the lock screen.
There is an cool option available to wake up the display for latest notifications, and you can launch the Google Assistant by invoking the hotword "Ok Google" even if the phone is in sleep mode. To enable, Go to Setting >> Display >> Ambient Display.
18. Change icon theme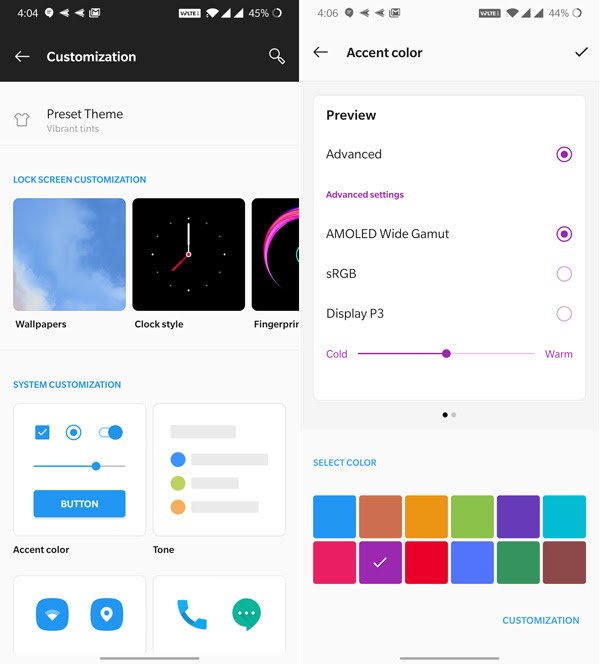 OxygenOS 10 on OnePlus 7T Pro brings a cool feature of changing the icon theme all around the UI. To change the icon theme on OnePlus, just tap and hold the finger on home page and select settings. Then tap on the Icon theme option and select the theme that you like. You can also download the themes from Google Play Store.
19. Dark Scheme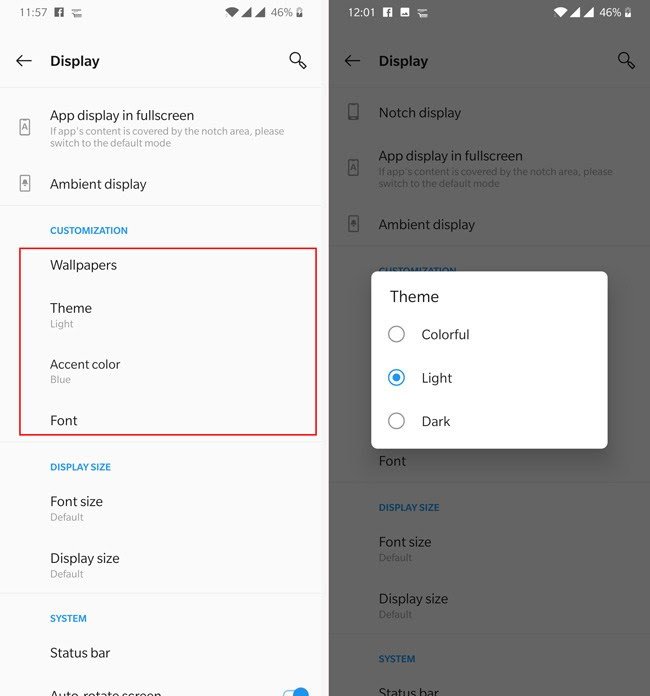 OnePlus's OxygenOS 10 comes with a built-in dark mode feature which enables dark theme all around the UI. Sock apps like Contacts and Dialer are also forced to appear in dark mode. To enable the dark mode, Go to Settings >> Display >> Theme >> Dark Theme.
20. Auto Call Recording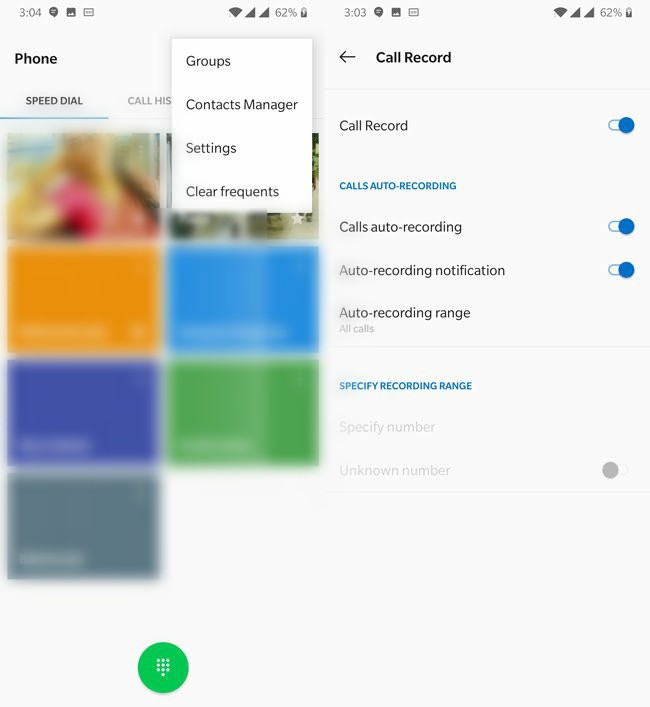 OnePlus 7T Pro has an amazing inbuilt call recorder with several recoding options. You can turn on auto call recording for all calls, favorite contacts or specific contact. This is one of best feature of OxygenOS 10.
In fact, you can access and turn on the auto call recording option from the menu that appears when you call someone. However, you cannot turn off this option in the same way.
If you want to turn off the auto call recording on OnePlus 7T Pro, you need to open the Phone app. Now, tap on the three dots menu and select "Settings". At the top of the list you will see "Call record" option from here, you can turn off the auto call recording option.
21. Smart Boost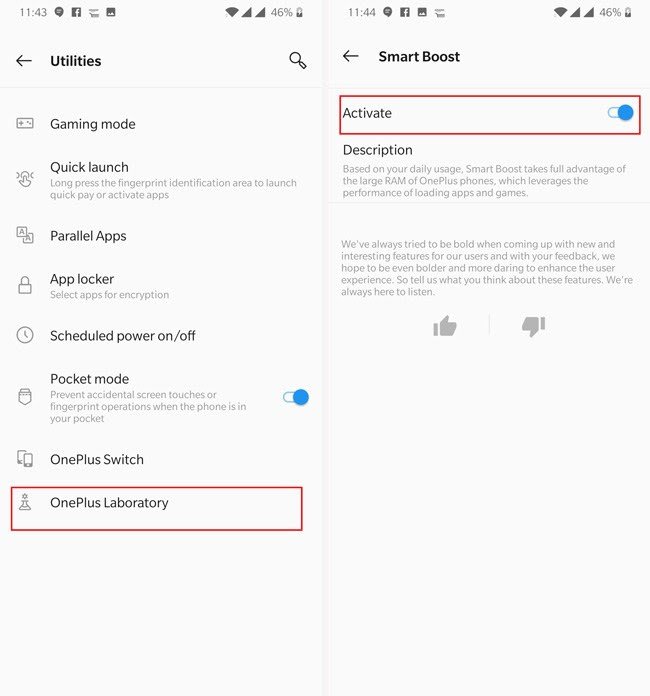 OnePlus brings a new feature to OxygenOS called Smart Boost. Smart Boost helps in launching apps faster than any other phone with Snapdragon 855+ chipset. The Smart Boost load some of the frequently used apps in the background. It enables the user to access apps on a faster rate. To enable this feature, Go to Settings >> Utilities >> OnePlus Labs >> Smart Boost.
22. Night Scape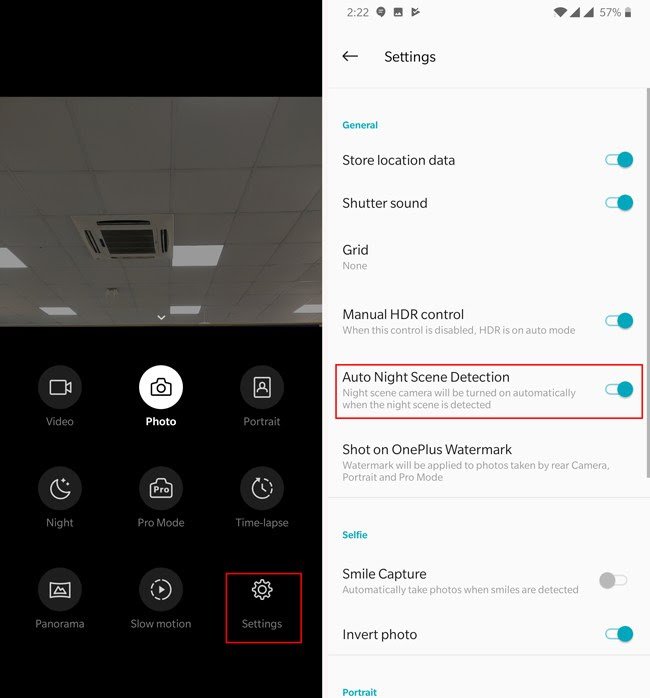 Since Google has announced a new Google Night Sight feature with an amazing capacity to take great quality pictures in low light conditions. Every other smartphone brand in the market right now pushing their limits to get the exact feature. OnePlus also creates a feature smilar to Night Sight called Night Scape. Using this feature you can capture good quality images in low light conditions. You just need open the camera app and switch to Night Scape mode and capture the image.
23. Customize Bokeh Shapes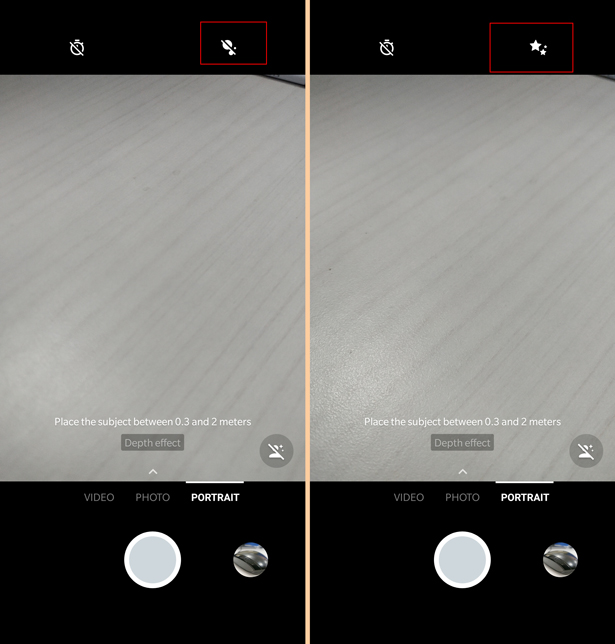 OnePlus 7T Pro allows you to change the bokeh effect shapes while using the camera. You just need to open the camera in portrait mode and select the bokeh shape you would like from the icon on the top left corner. Now, you can capture images with different bokeh shapes. However, the end result of photos are not very noticeable.
24. Switch Data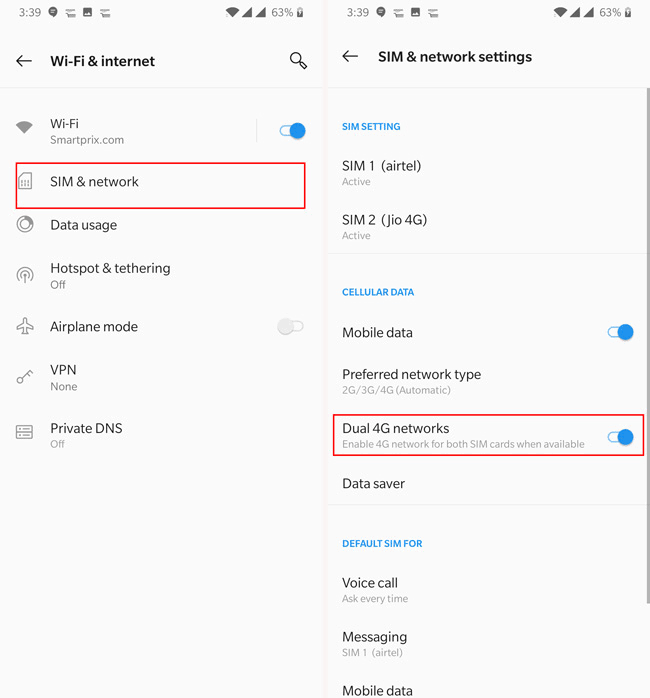 The OnePlus 7T Pro also supports Dual VoLTE. So, If you are using two 4G SIM cards and want to use 4G data from both SIM cards. There is a great quick data switch feature available on OxygenOS 10. You can acess this feature from the notification panel, and quickly switch data between the both the SIM cards.
25. Customizations of In-Display Fingerprint Sensor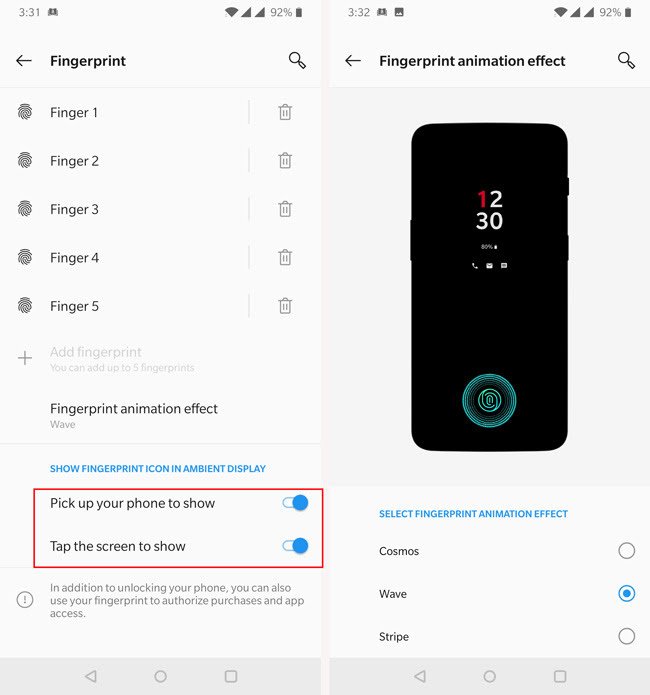 OnePlus 7T Pro also has an in-display fingerprint sensor that is pretty fast and reliable. When the screen unlock icon shows up, you can place your finger on the scanner to unlock the device.
By default the in-display fingerprint scanner is not always-on, on OnePlus 7T Pro. It shows up after pressing the power key. To fix it just, Go to Settings >> Security and Lockscreen >> Fingerprint, and turn on both the options "Tap the screen to show" and "Pick up your phone to show".
The same menu also lets you change fingerprint unlock animations that mask the gross bright green light effect that is required to read the finger ridges.
So, these are OnePlus 7T Pro hidden features, tips and tricks that make OnePlus Phones stand out. If you face any problem in finding these features then ask in the comment section below. We will solve it for you. If you guys like the article than do share it on social media with your family and friends.